Skip to content PRIVATE CHARTER
PRIVATE JET CHARTER
AIR CHARTER SERVICE OFFERS PRIVATE JET CHARTERS FOR BOTH BUSINESS AND LEISURE PURPOSES.
PRIVATE JETS FOR BUSINESS

Private charter flights offer a range of advantages for busy professionals, including time-efficiency. From quicker check-ins to faster transit times, private jet hire is the perfect way to fulfil multiple meetings in different cities, carry out several site visits in one day or simply have more of an opportunity to remain productive while travelling.
Expansive cabin interiors, technological enhancements and luxury seating also mean that passengers can recline in complete comfort for the duration of the journey and arrive refreshed at their final destination.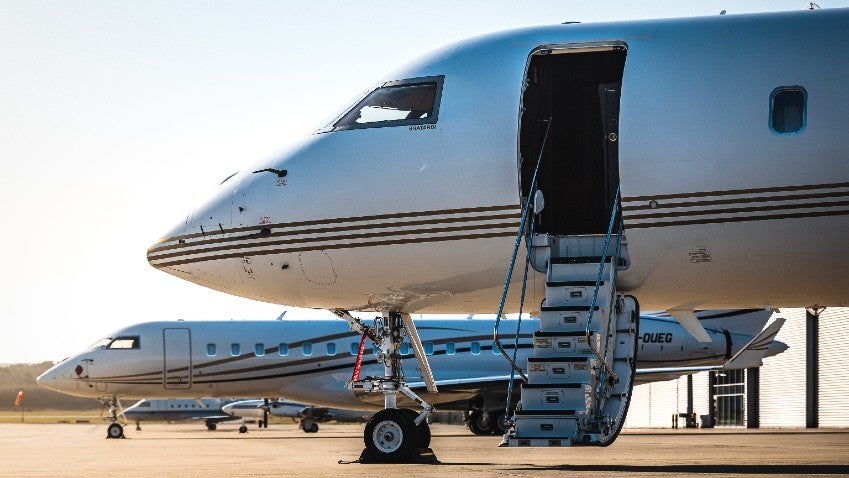 PRIVATE JETS FOR LEISURE

A private jet charter also takes the stress out of travelling for leisure. Whether journeying alone, as part of a small party or family, the generous cabin interior of a private plane allows for luxurious comfort and complete privacy during a flight.
Using a private jet rental to get to a holiday destination ensures the additional benefit of access to private terminals for faster security check-ins, ensuring that more time is spent enjoying the getaway instead of waiting in line. With its ability to access more locations around the world and enhanced potential for personalisation, chartering privately is the perfect way to travel for pleasure.
Access to private terminals means you avoid the hustle and bustle of busy airports and the queues through security.
Need a private jet charter? Call your local office or
ENQUIRE NOW
WHY USE ACS FOR PRIVATE JET CHARTERS?
Luxury and comfort: flying should be a pleasure and we'll make your charter experience as luxurious and comfortable as possible.

Discretion and security: an ACS charter guarantees your privacy, and we will work closely with your security provider on all aspects of your charter.

Create your schedule: connect with commercial flights or fly to your bespoke timetable – whatever your requirements we'll create the private jet charter to suit you.

Access to more airports: reach a remote location or simply arrive closer to your final destination than a scheduled service would allow.

Private terminal access: avoid queues and unnecessary delays; passengers are able to board the aircraft minutes before take-off.

Global coverage: no matter where you want to fly to or from, our international network of offices provides you with local knowledge on a global scale.

Cost efficiency: our buying power and reputation allows us to find you the best private jet charter prices, ensuring you always receive the most cost effective solution.

Choice of aircraft: with access to 50,000 aircraft and 130 different aircraft types, we will always source the right aircraft for your requirements.

Personal account manager: your dedicated charter expert is available 24/7 to assist you with any requirements you may have, from arranging in-flight cuisine to making last minute changes to your charter.

FREQUENTLY ASKED QUESTIONS
HOW DOES THE CHARTER PROCESS WORK?
After your initial enquiry you will be assigned a personal charter expert who will send you a selection of quotes for you to choose from. Each quote will have a clear breakdown of aircrafts and airports and reasons they have been selected for you. Should you wish to go ahead they will then book the aircraft and send you all the flight details including directions to the terminal and any other important information. They will be your first point of call for any further enquiries you may have up to the flight and, if possible, they will meet you at the terminal. From your initial quote you will be able to contact your account manager 24/7 (if on holiday you will be assigned another account manager to cover) so you can call from wherever, whenever you like.
HOW DO I DECIDE WHICH AIRCRAFT TO CHARTER?
Your dedicated account manager will advise you and provide you with a suitable range of aircraft based on your requirements, assisting you with your final decision. View our aircraft guide for further information.
HOW MUCH LUGGAGE CAN I TAKE WITH ME ON A PRIVATE JET?
You will be told how much the hold can take on your chosen aircraft and can upgrade if you feel more space is needed. This will generally be far more than that of a commercial airline. You may also need to upgrade if carrying things like golf clubs and skis. If travelling with a gun, you will need to provide a license and the gun and ammunition must be kept separate. It is then at the captain's discretion whether it can be on board.
HOW LONG BEFORE MY FLIGHT DO I NEED TO CHECK-IN?
Using private terminals means that you are able to check-in much closer to take-off than you could on a scheduled service flight. Sometimes you can arrive as little as 15 minutes before the aircraft is due to depart, and in some cases you can even be driven directly to the aircraft for boarding.
CAN I FLY WITH MY PET ON AN ACS CHARTER?
Yes but there are certain rules if flying in to or out of the UK. They will need a pet passport, to be microchipped, their rabies vaccination history (which must be in date) and a tapeworm treatment to be administered 12-24 hours prior to arrival in the UK.
SELECT UP TO MORE -
YOUR SELECTED AIRCRAFT ARE READY TO COMPARE
COMPARE NOW
DEDICATED ACCOUNT MANAGERS
NO OBLIGATION
25 YEARS EXPERIENCE
AVAILABLE 24/7